As part of PMI-Montreal's 40th anniversary, members of PMI-Montreal will be able to visit organizations from different sectors that contribute to the promotion of project management in Quebec. As these are events with limited capacity, the identity of the host company of the next tour will be announced the day after each event! Stay tuned!
Le projet du pavillon K, d'une superficie brute de plus de 80 000m2 a été finalisé au cout de 425 M$ dont 300M$ en construction et 50 M$ en équipements médicaux spécialisés.  Il a été réalisé en mode gérance « fast track » par lots et par phases pour permettre un échéancier accéléré de travaux sur 6 ans. Le projet a par ailleurs été livré en trois phases, soit les espaces sous terrains de stationnements, le nouveaux département de l'urgence en 2014 et par la suite, la partie principale, soit le basilaire et la tour en janvier 2016. 

Le pavillon K comprend entre autres 
Quatre niveaux de stationnement en sous-sol; 
Un basilaire abritant le plateau technique; 
Un atrium qui servira d'interface entre le nouveau pavillon et l'existant. 
L'aménagement de la stérilisation; 
L'aménagement du bloc opératoire (18 salles) et de la salle de réveil; 
Plusieurs unités de soins intensifs (médecine et chirurgie, coronariens, cardiovasculaire, néonathalogie…); 
Une partie de l'imagerie médicale; 
L'hémodynamie; 
Le centre de naissance de 15 chambres et les 12 lits ante-partum; 
Quatre unités de soins de 32 lits en chambres simples de médecine et chirurgie; 
Une unité d'isolement de 24 lits. 

Lors de la visite à l'Hôpital général juif, nous ferons une revue du projet et iront visiter les endroits inusités tel que tels que le bloc opératoire, les soins intensifs, une unité de soins typique, l'urgence et une salle d'imagerie interventionnelle. 

Vous serez à même de constater les défis techniques d'un tel projet mais aussi l'importance apportée à l'environnement de soins autant du point de vue de l'esthétique que de l'apport de lumière naturelle.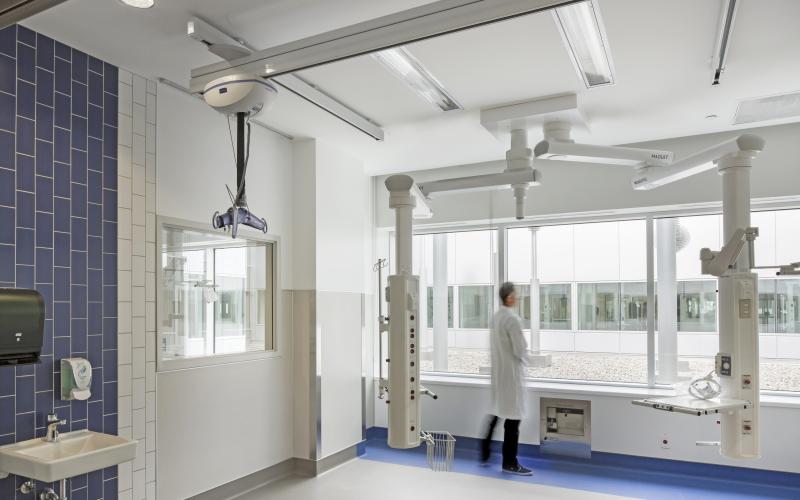 Seront présents sur place afin de répondre à vos questions et vous présenter la mise en oeuvre du projet : Georges Bendavid, Directeur des services techniques, Hôpital général juif

Prenez part à la troisième visite guidée du 40e anniversaire du PMI-Montréal! Dépêchez-vous, l'événement est limité à 25 participants!

Déroulement :
17h30 : Accueil des participants
17h45 : Présentation du projet
18h15 : Début de la visite guidée
19h15 : Clôture et période de questions
19h30 : Fin de l'événement
It is not possible to register to this event anymore.
Guided Tour : Pavillon K of the Jewish General Hospital
Type of activity :
Special conferences / workshops
Price
PMI-Montreal members
$ 15.00
It is not possible to register to this event anymore.