PMI-Montréal project management blog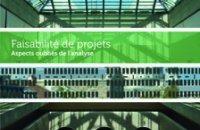 Olivier Mesly is a professor at New Brunswick's Université Ste-Anne, as well as a marketing and project feasibility consultant. He's also a fascinating man with a sharp sense of humour. It was a delight to uncover the man's many layers over the course of this interview.
During the 2015 Montreal Symposium, Olivier Mesly gave a conference on Points of Vulnerability (POV) in project management. "It's a theme that's very dear to me, he said. Studies on feasibility seem to forget the difference between risk, an external threat, and vulnerability, an internal threat inherent to systems, people, plans and processes." He went on to explain the difference between the two, and the importance of including POV in feasibility analyses.
Project Feasibility and Forgotten Aspects of Analyses – Project History
"My book is about project feasibility and how to evaluate whether or not a project is feasible and doable, before incurring significant costs," says Mesly.
But how did he start thinking about publishing a book on the topic? "The book was inspired by a course I teach on project feasibility in Asia, Latin America and Canada in French, English and Spanish. I built the course for Masters students and for project managers in the heat of it. I wanted them to have a visual component, so we could use graphs as a reference. The book presents 16 tools for managing project feasibility, but with a visual aspect that helps decision-making.
The book was published in May 2015 by Presses Internationales Polytechniques, and has already received accolades from the head manager at the Quebec City Amphitheatre, among others, on the book's visual components and how easily one can apply its principles both in theory and in practice.
The book also reveals testimonials from project managers, government officials, namely from the Business Development Bank of Canada, which point to the book's usefulness.
Olivier Mesly: A Knowledge-Spreading Globetrotter
Mesly has a degree in Japanese Studies from McGill University, a Masters from the University of Guelph and a PhD in Marketing from Université Sherbrooke. Such a diverse background can only make for a colourful professional journey.
"I've always communicated in many languages in professional settings: Japanese, English, French and Spanish. It allowed me to travel, introduce innovative products, and create projects for companies. What struck me the most is the importance of interacting with stakeholders.
Human contact is just as important as a well-prepared plan, making sure all the processes are in place, and ensuring there's a line of authority, but establishing trust, a collaborative environment and involvement are also fundamental. My experience of speaking foreign languages abroad has demonstrated time and time again that this helps make connections and understand different cultures. This is important because projects are taking a larger, more global scale, and are becoming multicultural and multidisciplinary, so having that understanding and the ability to manage it helps in completing projects.
What can we expect from your book?
Mesly's answer displayed his signature sense of humour: "I'm right behind the number one best seller, Harry Potter, so I'm number two! All kidding aside, engineers have told me that I put into words what they were going through, but that it hadn't been put into words before, it had never been conceptualized. We didn't have the technical language to express it and I just did! The book is in French, so I hope it will be successful in French-speaking areas of the world. I'm also currently working with Taylor & Francis Group, an international publishing house from the United Kingdom, to work on a roughly 600-page book about POV in English and the 4 P's of project management: plan, process, people and power."
"People's experiences inspire me, he adds, and I actually have a student who took part in the book by adding comments. At least four of my students took part in one of my previous books. I want my books to be anchored in the areas I work in and am active in, with engineers, professors, students, so that everyone can relate to the book and be able to grasp and understand what I'm trying to explain." 
In Conclusion, the Editor's Choice
Olivier chose Presses Internationales Polytechniques despite having received offers from other publishing houses. "A number of reasons led me to pick them. The name "Polytechnique" is associated to quality, and I have friends who work there. It seemed to follow what I was doing with the book."
Olivier Mesly is the author of seven books. He's nothing short of prolific!
To watch this interview with Presses Internationales Polytechniques, click on the link:
THE BOOK:
BIBLIOGRAPHY:
Faisabilité de projets - Aspects oubliés de l'analyse, Olivier Mesly. Presses Internationales Polytechnique, Montréal, 2015. ISBN : 9782553016882
Excerpt:
http://www.presses-polytechnique.ca/fr/faisabilite-de-projets-aspects-oublies-de-l-analyse
http://www.presses-polytechnique.ca/depliants/9782553016882.pdf
THE AUTHOR:
LinkedIn:
https://ca.linkedin.com/pub/olivier-mesly/47/23b/664
Author's Website:
2015 PMI-Montreal:
https://www.pmimontreal.org/symposium/conferenciers/olivier-mesly
Suggested articles