PMI-Montréal project management blog
Develop your project management skills !
Author : PMI-Montreal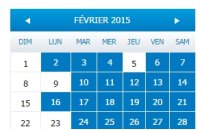 I just wanted to share with you how satisfied I am with the offer fromThe Personal  for my home and auto insurance.
It has allowed me to save a few hundred dollars.
Develop your project management skills !
Important information : Board of Directors 2015
As you have already been informed, in order to be eligible as a candidate, your membership to PMI-Montreal must be in good standing at least 90 days prior to the date of opening of online voting (i.e. 23 December 2014 for election commencing March 24, 2015). In addition, your application must be seconded by another member of PMI-Montreal in order to be valid.
Read more
During the Symposium, Club de lecture Affaires met with a number of project management innovators to discuss their favorite or recommended project management books
To download and listen to the podcasts of the interviews, visit iTunes 
Fourth letter to a young project manager: The Siren's call
The previous letter addressed the manager and leader hats that the young project manager must change according to the situation. The subject of this letter deals with a mirage that often obscures the eyes of the young project manager.