Aliki on the Road : Bogota: Coffee, Community and the other C word.
ByAliki Courmanopoulos, 2017-11-15
When you think of Colombia, what first comes to mind?
...Yeah, me too.
The word pops up in every conversation, it starts with a C and rhymes with "eruption".
Colombia has had an often violent history, marked with guerilla warfare and drugs. But this picture of the country is far from reflective of it's people and their hopes for the future.
Today, the cities are safe, the people are welcoming and Project Managers are taking a stance against corruption by working together in the private sector to create change. Far from the Netflix Narcos depicted towns of the 80s and 90s, Colombia is progressive and accessible.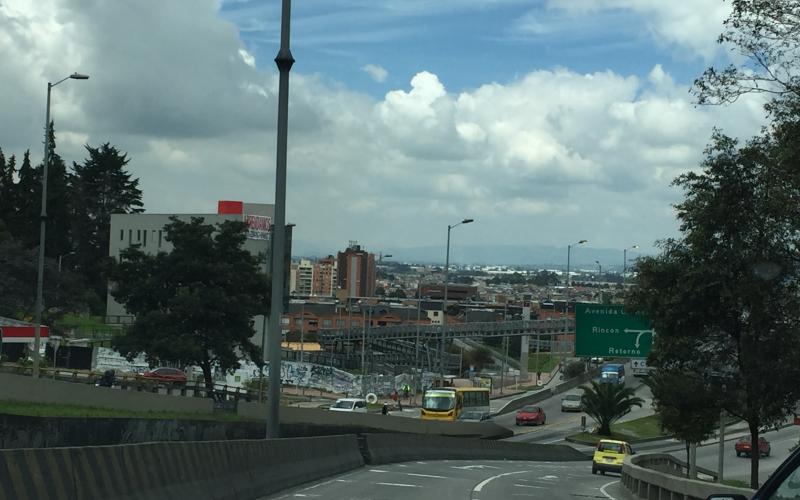 However, Project Managers and companies are navigating a delicate political situation. With upcoming elections, many projects are on the table, but there is uncertainty if there will be a go for these initiatives, keeping in mind that corruption, not only in Colombia, but in many countries in Latin America is a common "currency" to do business at different levels. While it is easy to discuss the problems, I didn't travel around the world to get information I could have Googled. I'm here to discuss solutions from the community of visionaries who care so much about their profession that they give of their free time to move their country forward through project management best practices.
On November 5th, I arrived in Bogota to meet and have a coffee (when in Colombia, coffee of course) with PMI-Bogota Colombia Chapter volunteer, Juan Carlos Velandia, PMP, who works with the chapter in communications and digital marketing.  Hey, that's what I do too!
Meeting with Juan Carlos Velandia
Juan Carlos got involved with the chapter after attending a conference and meeting with the board members who asked him to share his knowledge to improve their web presence. He led the project to redesign the PMI-Bogota website using UX/UI expertise for restructuring the portal. Please give it a look (any feedback to the chapter would be greatly appreciated).
"If you do one little thing related to your knowledge field, and if it solves an issue, let's say in one hour of your time, perhaps you have saved 3 or 4 hours of some other time for another volunteer, and that really counts," said Juan Carlos as we were discussing all the reasons why volunteering for PMI makes a difference in personal and professional lives by improving the community and the trust around it.
Over the last year and a half of volunteering, Juan Carlos remains amazed (as do I) at the hours of dedication the board of directors and volunteers of PMI-Bogota give of themselves to grow the chapter and give back to the community. "These are people with full-time jobs, and they still find the time to attend chapter events and support community projects, it's amazing".
Building Trust to Make Change
So, from a PM community perspective, how can we overcome corruption for the sake of these countries' future's?
There is a change happening in who we trust. Apps like Uber, Airbnb, Waze, are all examples of how trust in the community and a review process is stronger than in a central authority telling you to trust it.  Many people trust in these platforms and make decisions based on peer reviews, which keep a record of good behavior, quality, service, etc. for other people that will use or buy services or products in the future.
How does this translate to Project Management?
Perhaps you have heard about the blockchains and the intelligent contracts. The blockchain keeps a record of virtually any activity of value and it is secured through a community.
"The blockchain is about trust in the community, eliminating corruption, and how to develop our society", stated Juan Carlos. "It's going to happen...it is happening".
In countries like Zimbwawe with unstable government or mistrust in the central authority, Bitcoin has already taken hold as paper money is devalued or there is insufficient access. The cryptocurrency transactions are added to the blockchain and stored in a digital wallet which can be used for daily purchases both in person and online. Cryptocurrencies are not controlled by a central authority and cannot be corrupted at a single point of entry.
Imagine a project where your deliverables were approved by project professionals and recorded on a permissioned blockchain, and not by a single person. The value of your project is recorded and added to a project blockchain, signaling the end of corruption through transparent transactions. The same technology that secures cryptocurrency transactions, ensures the payment of services related to your projects. Project Management as a job becomes a community based activity, transparent and approved by professionals with experience.
Juan Carlos shares his knowledge of the blockchain via Bitcoin and Ether (two of the big cryptocurrencies available), but is eager to see the time when we would be able to insert a schedule on a smart contract with a Project Management tool to check automated CP, SP, EVM indexes. This recording would serve as the ledger of the past and present activities; from the project signature, to the payments to each team member. Using his smartphone, Juan Carlos showed me an example of how bitcoin transactions have to be approved by the community and added to a blockchain.
As some companies do away with their Project Managers in favor of having teams manage the projects, we may be closer than we think to having projects requirements, documentation, administration and payments recorded through blockchains.
So as we finish our coffees, I'm left wondering what the role of Project Manager will look like in a world of digital transparency and community based approval. Will PMI members be a part of a global blockchain for projects around the world? Will procurement management be entirely replaced by this system? And when can I come back to Colombia?
More from Juan Carlos Velandia
https://www.linkedin.com/today/author/juankvelandia
About Aliki en route
Around the globe, everyday, project managers are making the world a better place by bringing complex projects to life. These individuals use their skills to promote change and improve the lives of countless people. I am backpacking around the world, exploring projects and people, whose passion for these methodologies is creating change through innovation. If you've ever wondered what Project Management is really about, or considered how your skills as a project manager could be used to make a difference, follow me on my trip around the world. www.alikienroute.com
For a more detailed explanation of the Blockchain, check out this article from Alex Marsh.
---