The Job Search in Project Management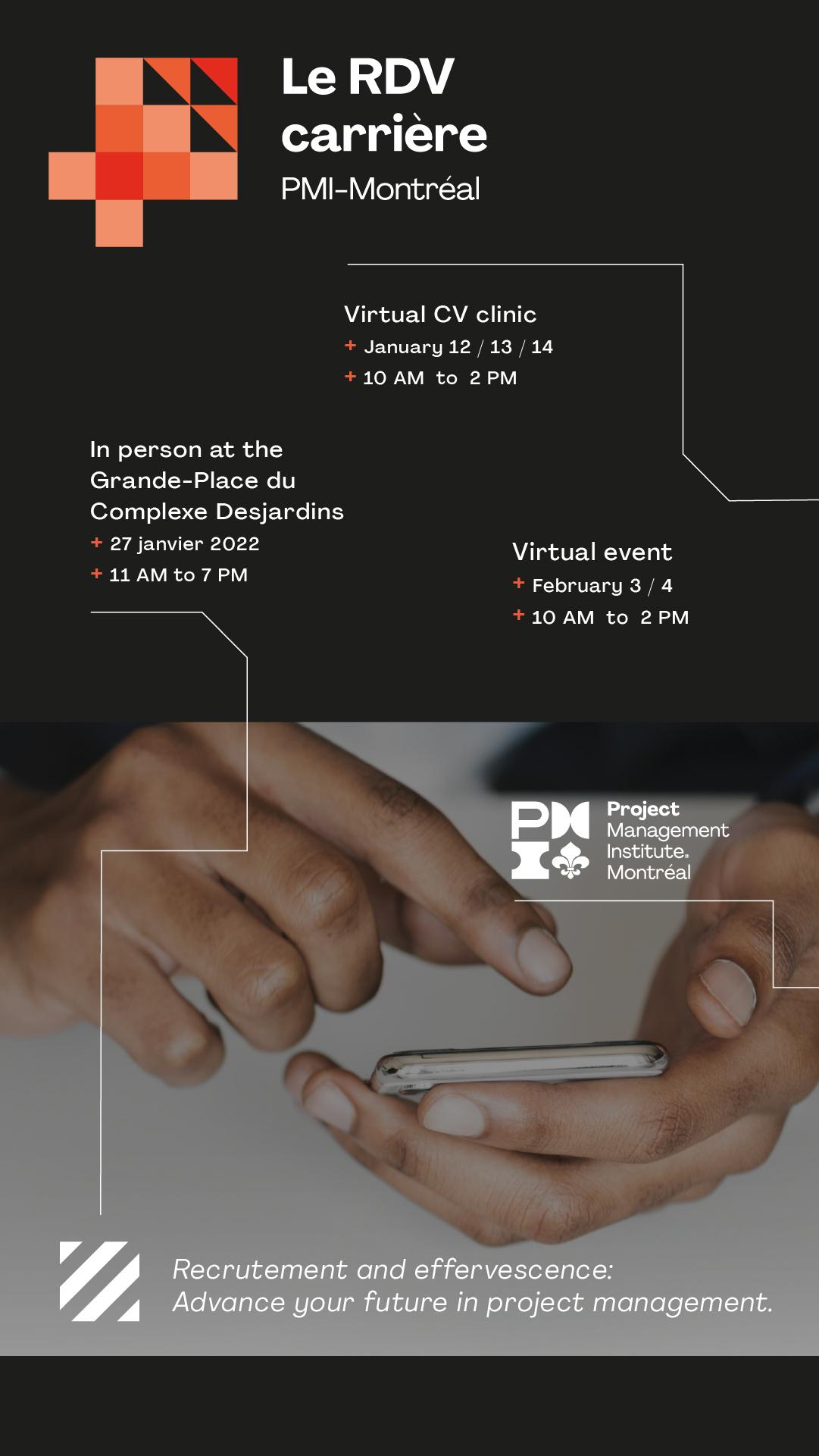 It is very clear that the segments of business, aerospace, and health, as in IT, remain among the most in demand fields in project management. Nevertheless, other industries are constantly looking for project managers, such as event management, culture and arts, as well as real estate.
It is interesting to find many project managers with expertise or an academic background in different fields outside the norm, such as  environmental or the arts. music or cinema. Their expertise  allows them to manage specific projects more efficiently, thanks to their understanding of the context. Therefore, we must never underestimate our different personal and professional experiences; they can always be put to good use when approaching an employer.
Many positions related to the field of project management are available in Québec. The hierarchical level and title depend on the level of responsibility and scope or importance of the project. They also depend on the "typical career path" within each company. We can find, for example :
Project Manager: One normally responsible for organizing and ensuring  a smooth undertaking of a project from start to finish (costs/budget, schedule, specifications, quality, etc.).
Project Lead: One who leads a project, often under the responsibility of a project coordinator.
Project Coordinator: Responsible for managing the small projects. Often assists a project director.
Project Director: The professional who leads a large-scale project as opposed to a project leader. He pilots the project, anticipates the impacts, drives change, arbitrates decisions and ensures communication. Often supported by a project management team.
Project Controller (or PCO, acronym of Project Control Officer): One responsible for planning, updating and controlling projects. Reports on the status of the project. Often the co-pilot of the project.
Note: nowadays in large corporations, we find positions related to project portfolio, where the mandated professional has the responsibility to manage a set of projects, often related to the strategic plan of the company.
The more you advance in your own project management career, the more your interpersonal skills will be sought. So keep this in mind when looking for skills improvement courses or a new positions.
POSITIONS IN PROJECT MANAGEMENT
A very common practice in Québec, is where the professional is a permanent employee of an agency or consulting firm in project management. The company assigns you to a mandate that requires a placement with a client
Other companies hire professionals directly as permanent employees, which allows you to develop a long-term relationship with the organisation. You will be one of the organisation's employees and will be entitled to its benefits. As an employee, you will have performance appraisals, increases in salary, promotions, establishment of career goals, etc.
A career in consulting is also possible, as it is often the case in the IT (Information Technology) industry. In this context, you are more independent. Often, the consultant's mandates are between 6 to 18 months. You will not be an employee of the organization and won't benefit from the social advantages. You would have to start your own company and invoice your services—a very common practice known as ''freelancer.'' The hourly rates are generally higher than permanent positions, as you will be required to obtain personal insurance, plan vacation time and idle time in-between mandates, etc. Accounting and tax specialist support may be advantageous.
Attributes sought out in professionals that occupy a permanent position are different than the ones requested or expected in consulting. The CV of a permanent professional often shows an interest in process improvement and promotions obtained, while the CV of a consultant will show the variety of experiences in different organisations.
THE PARTICULAR ROLE OF A PROJECT CONTROLLER
The Project Controller (or PCO, acronym to Project Control Officer, or verbally, the Planner or Project Controller) is responsible for planning, updating and controlling project. The professional acts as the project co-pilot.
For someone who is just starting a career in project management or even the experienced professionals who arrive in Québec, the role of a PCO is seen as an excellent entry point into the job market. Here are the main reasons:
The position of PCO doesn't require major decisions taking. For someone who just arrived in Québec, it is necessary to not ''get burned'' in a position that requires important decision making, without enough knowledge of the culture and Québec practices. The PCO can observe, analyse and learn a lot while giving the necessary support to the project director.
It requires a good communication, especially in writing, which offers a good opportunity to learn the jargon and communication customs.
It offers good visibility and can open up many doors within the company: a good PCO will see his/her work recognized.
Lastly, a PCO position allows you to polish your technical knowledge on the most used software in Québec, MS Project in particular.
«'The position of PCO is indeed a good entry point for a professional in a company. After many years of experience as a project manager at BNC, Bombardier, SAQ, BELL, I assumed the position of PCO at HQ.  This has afforded me a better knowledge of this environment and industry. It is necessary to have the humility to do it in order to succeed.' (Agnès Bédard)
'You have to start somewhere and not necessarily immediately seek a position similar to the one previously occupied elsewhere. The world is a small place, if we try to go too far, too fast, we risk getting burned. Sometimes, accepting a less demanding position allows us to demonstrate our capacities. Starting with small steps is a must.' (Agnès Bédard)
For more information about this major role in project management in Québec, we recommend reading the following books:
« Le guide du PCO – Contrôleur de projet : introduction » by the authors Sébastien Halil, Fabienne Polonovski at Amirouche Sellam.
Next page
The Integration of Newcomers Into the Job Market
Previous chapter
Welcome to PMI-Montréal
Following chapter
References