PMI-Montréal project management blog
Virginie Amyot-Ghirotto, Junior Project Manager
Author : PMI-Montréal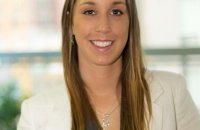 Virginie recently graduated with a Masters in Project Management from the School of Management (ESG UQAM.)  According to her, her involvement with PMI-Montreal has been a key factor to her growing knowledge of project management.
In the two years since she became a member, Virginie has participated in many PMI events such as the RDV Career Day, the Gala Élixir, the mentorship program, and the Symposium. As the project manager of the third edition of the RDV Career Day, she put into practice her theoretical knowledge and met project managers from different industries.
As she takes her first steps in an inspiring field, Virginie does not hesitate to assert that becoming a PMI-Montréal member, and taking part in its activities, has been very beneficial to her burgeoning career. Her membership provides many occasions to improve her skills and grow her professional network.
PMI-Montréal gives recent graduates like Virginie access to stimulating and motivating opportunities, allowing them to build their career by learning more about project management and its various specialties.
What pushed you to pursue a career in project management?
As previously mentioned, I first chose this career path because I hate routine. We all know that by definition a project has a beginning and an end. Thus, this remarkable career will never be repetitive.
Also, my sense of organization is an important asset for the job. As a sensitive and empathetic person, it has always been easy for me to connect with the people around me and recognize their needs. I quickly respond to my team's requirements by leveraging their abilities and ambitions. In addition, I adore teamwork. I believe that I have a head start as a project manager and possess all the necessary skills to progress in this fantastic field.
Is there anything you've reflected on that you would like to share with the industry ?
I encourage all project managers, especially newcomers to this awesome field, to get involved with PMI-Montréal. Joining an association creates a sense of belonging. I truly believe that becoming a member will provide many helpful benefits along our career path, one of which is the development of a professional network that improves our chances of success. Thanks to my involvement with PMI-Montréal, I increased my visibility within the industry and met wonderful project managers who helped grow my expertise and confirmed my desire to evolve within this field. A powerful network is key to success in our industry.
PMP Generation: Are you a project manager with something to share about your industry?
Answer our PMP Generation questions !  Click https://goo.gl/forms/fHsqP7zKwyaI1tkG3 to access the form.
Suggested articles