PMI-Montréal project management blog
PMI Voices on Project Management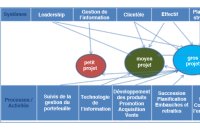 VOICES ON PROJECT MANAGEMENT: INDEPENDANT IDEAS AND INSIGHTS BY AND FOR PROJECT MANAGERS
Project managers usually advance in their careers by managing small, then medium and ultimately large projects. What project managers may not be prepared for is the complexity that comes with taking on bigger projects. Left unmanaged, this complexity leads to chaos and ultimately project failure. 
Why does this happen? 
A business system is characterized by processes and activities that work in tandem to deliver a specific result that benefits customers. Throughout a project's life cycle, it can encounter a number of business systems -- such as leadership systems (how leaders set values and organizational performance and governance) and customer systems (engagement strategy to meet customer needs and support that relationship) -- that independently and jointly put pressure on the project.