PMI-Montréal project management blog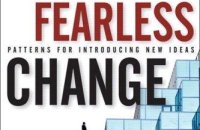 Sylvia Leduc's expertise lies in a cross between three major fields: project management, information technology and finances (economics and pension funds).
"I accepted the Club de lecture Affaires invitation as a member of Agile Montreal – a community of people who practice agility, be it in software development and project management in the field of information technology. Lately, she explains, we've also broached the subject of organizational agility. I found the book relevant for project managers that follow a more classic route, which we call Waterfall, but also for those who are active in the agility field."
More Fearless Change – discovering the book and Linda Rising
Leduc was compelled to share "More Fearless Change" by Mary Lynn Manns and Linda Rising in November 2013, when Rising gave a closing statement at the Judith Jasmin auditorium at UQAM. Her statement was met with a standing ovation from 600 or so guests. Sylvie was taken by surpises by Rising's presentation and took interest in her work, seeking contact through LinkedIn and keeping in touch via email.
Sylvia Leduc's work navigates unchartered waters: she must not only sell herself, but also sell the urgency for change. "More Fearless Change," a follow-up to Rising and Mann's first book ("Fearless Change," published in 2004), focuses on organizational change. At the time, Rising was a major proponent of agility. This approach was ultimately helpful to Sylvia from multiple perspectives, such as project management, organizational change and changing one's way of thinking.
"The wonderful thing about this book is that it's a collection of useful, practical tools that can be used every day, not just occasionally. I want my company to be agile in how we provoke change in companies and in the business world's ecosystem."
"Linda Rising and Mary Lynn Manns present practical tools that take into consideration how much has changed since 2004. Social media has changed everything. To begin with, you need to be aware that our attention spans have become shorter than that of a goldfish. A study by Microsoft even confirms this. So when you aim for organisational change, if you don't give yourself the right tools to communicate often and to leave a mark, people will forget about it because they're constantly bombarded with information. The authors provide tools to assist middle managers and leaders with change in the workplace. It can be as simple as sending an e-mail. The more you see and the more you hear, the more innovative the message, the bigger your message's impact.
The book also provides simple tricks like sharing snacks or a meal during meetings, which increases the likelihood that participants will remember details from that meeting. These are small tricks that studies have proven to be effective.  
The first edition featured case studies and real situations, but given that social media didn't exist in 2004, at the time of the book's publication, its content has been updated to include current examples.
Another example is what the authors call "patterns," i.e. ways to proceed, which concerns those who tend to avoid individuals who are known to be generally negative or rebellious when change is being introduced. The authors suggest to spin this tendency on its head by including these individuals in the project in its early stages and by making them devil's advocates. This way, stakeholders can still challenge one another, but the devil's advocates will participate naturally and actively.
"The advantage of such a method is that when you sell your idea to leaders, or to employees, or even managers, you can tell them that someone has already advised you against certain things. They've told you what won't work, and you can reassure them that you've made the necessary adjustments. This way, people feel that you've done your homework, and managers will be more open to your ideas because you've demonstrated that you've done your homework. The role of the devil's advocate is to become proactive, and for them to sense that their ideas are also being considered."
Who should you gift this book to?
"More Fearless Change" is making the rounds in the agile community. Sylvie Leduc says it's a perfect book for project managers.
"Project managers often find themselves managing change, a role they don't necessarily have time to take on. So project managers, whether they are agile or more classic, would find a bunch of tools in this book to help them manage change on the daily, and could even apply those tools to their status reports, in weekly meetings with their teams, etc. Project managers who manage change will find the book interesting because so much of it is easily applicable. What I like is that it's all very simple and cost efficient, whether it's for big or small companies."
In Conclusion
"More Fearless Change" was published by renowned publishing house Pearson Education. Though it may seem bulky, its format is in fact light, filled with photos and images. Since its authors don't plan on translating the book, Sylvie Leduc has received permission from Linda Rising to use its content to create a conference aimed at companies who are on a quest for self-discovery. She hopes to make change management a long-term goal within companies, not only when it is positive and at the innovation and introductory levels, but also in employees' collective unconscious.
"More Fearless Change" continues to impress, and is very much discussed in the project management and agility communities, in Montreal and abroad. Go, Sylvie, Go!
THE BOOK:
Bibliography:
Fearless Change: Patterns for Introducing New Ideas, Mary Lynn Manns, Linda Rising. Addison-Wesley, Boston MA, 2004. ISBN: 9780201741575
More Fearless Change: Strategies for Making Your Ideas Happen, Mary Lynn Manns, Linda Rising. Addison-Wesley, Boston MA, 2015. ISBN: 9780133966442
Excerpts:
(2004) http://www.amazon.com/Fearless-Change-Patterns-Introducing-Ideas/dp/0201741571
(2015) http://www.amazon.com/More-Fearless-Change-Strategies-Making/dp/0133966445/ref=sr_1_1?s=books&ie=UTF8&qid=1440940901&sr=1-1&keywords=more+fearless+change
Book Website: http://www.fearlesschangepatterns.com/
ABOUT THE AUTHORS:
Mary Lynn Manns - https://www.linkedin.com/pub/mary-lynn-manns/0/2a8/b59
Linda Rising - https://www.linkedin.com/pub/linda-rising/0/273/747`
Authors' Website: http://www.fearlesschangepatterns.com/
Linda Rising: http://www.lindarising.org/