PMI-Montréal project management blog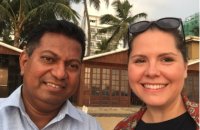 There were three questions I was asked everywhere I travelled in Sri Lanka:
Where are you from?,

Are you married?, and

Where are you volunteering?
The first two questions were also asked in almost every country I visited; the solo female traveler is still a curiosity in many places.
In Sri Lanka, the large majority of foreigners I met were teaching English or volunteering with animal conservation groups, and paying to do so. Sri Lanka is a low cost destination for voluntourism, combined with beautiful landscapes, beaches for surfing, delicious food and welcoming people, it's easy to see why.
It was thanks to the PMI HQ staff in Singapore that I chose Sri Lanka as a destination, their high praise of the chapter volunteers peaked my interest, but now here I was wondering what volunteering looks like for locals when so many foreigners are willing to pay to do good?
How do Sri Lankans volunteer?
On my very first day in Colombo, I met with the chapter president, Ganesh Wijenayake, and we were joined for dinner at the beach by some other board members where they invited me to present my travels at their next chapter meeting.  With this volunteering question now top of mind, I had three weeks to explore the country and return with some project management insights for their members.
(photo) Ganesh Wijenayake, PMI Colombo Sri Lanka Chapter President and Aliki Courmanopoulos
Sri Lanka has some of the most beautiful landscapes I've ever seen. From climbing the Sigiriya rock to the train ride from Nuwara Eliya to Ella, I was in awe. People were friendly and easy to meet. We shared food and discussed politics, religion and project management (of course!). With more than 70% of the population identifying as Buddhists, many of the cultural activities I observed consisted of moments of sharing. On the celebration day of Vesak, families stood on the road side, offering drinks and cookies to people passing by. On Wednesdays, people made huge amounts of milk rice outside the temples, offering heapfulls on banana leaves to everyone who stopped. At the temple, I was always offered some flowers to lay at the Buddha's feet. Karmic action is part of the social landscape of Sri Lanka and a fundamental Buddhist principal. Offerings and sharing food is the highly visible action of karma and part of what makes Sri Lanka so hospitable.
Train over the Nine-Arches-Bridge, Ella, Sri Lanka
I was enjoying a coffee at Buono cafe in Kandy when I met a volunteer with Child Action Lanka, an organisation that provides activities and education to keep children off the street. They are busier than ever, and growing to provide services to parents looking for work and fundraising through the sale of handmade local crafts. Our conversation quickly turned to their organisational needs and challenges. They recruit many of their volunteers from abroad, who come to work for a few weeks or months to help out. "But what about long-term local volunteers?", I asked. She explained to me that volunteering is not seen as a complementary activity to your career in Sri Lanka. Either you pursue a professional corporate career or you work in not-for-profit. The two do not mix.
I returned to Colombo with my question for the chapter meeting participants.
What motivates a project manager in Sri Lanka to volunteer?
And blank faces stared back at me.
Thinking back to the conversations and experiences I had witnessed the past few weeks, I realized maybe the word volunteer itself was wrong.
They give their time in their communities, at temples, as caregivers, as chapter volunteers, but not immediately as project managers. Volunteering isn't seen as a tool for making networking connections or gaining experience towards a professional goal. It's not that the concept of giving back is foreign; it's already part of a Buddhist identity. Giving is built in to their daily life, with offerings, food, donations. My challenge for the participants of the PMI Colombo Sri Lanka chapter is to expand this existing spirit of giving back to include sharing their professional expertise.
I explained some of the types of organisations I encountered in my travels, all looking for high level help in their projects, and I could see some interests peaked. I spoke about Child Action Lanka and the conversation I had had with the volunteer in Kandy. While foreign volunteers will come and go, local resources are important for consistency to build long-term strategies and for understanding the social and cultural factors that can impact success. Here lies the opportunity for Sri Lankan chapter members to give their time using their professional experience and for the PMI local chapters to be instruments for some positive karma.
Part of what has made these presentations so easy has been the willingness of PMIers to share their point of view. At the end of my presentation, I was approached by most of the participants, one by one or in small groups, and the contact information for Child Action Lanka was given out to eager young project managers for whom this idea of giving back using their project expertise resonated. Challenge clearly accepted.
Sri Lankans volunteer close to home and with regularity, responding to immediate needs in their community. If these presentations while traveling have accomplished anything, I hope they inspired project managers to consider their professional expertise as another way to give their time as part of a larger long-term strategy, whether you believe in karma or not. The need is there, and finding it is often as simple as striking up a conversation in a cafe.  
About Aliki en route
Around the globe, everyday, project managers are making the world a better place by bringing complex projects to life. These individuals use their skills to promote change and improve the lives of countless people. I am backpacking around the world, exploring projects and people, whose passion for these methodologies is creating change through innovation. If you've ever wondered what Project Management is really about, or considered how your skills as a project manager could be used to make a difference, follow me on my trip around the world. www.alikienroute.com