PMI-Montréal project management blog
PMP Generation - Eric Walker, PM Operational Technologies, Environment, Ville de Laval
Author : PMI-Montréal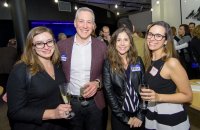 Éric Walker is a PM and a geek who likes finding innovative IT/OT solutions.
As a project management professional, what keeps you up at night?
Team conflicts and political games.
What changes would you like to see in the project management industry in 2017? What is your vision for project management in 2017?
Government recognition of experts in project management, a professional order perhaps?
What pushed you to start or pursue a career in project management?
The pleasure of working with passionate people towards a mutual goal, a common objective from start to finish.
What is your fondest memory of PMI-Montréal?
The first symposium I attended (in 2012, I believe). I told myself: Wow, what an awesome gang of project management fanatics. Plus, I'm fascinated by the diversity of industries with often similar challenges. And now I'm part of the social media in the committee!
Symposium social media committee
Which project would you like to bring to the attention of the industry (a small community project, a big project that has slipped under the media's radar, etc.)?
My colleague Marie-Claude LeSauteur's project submitted to the Ville de Laval, which is about creating a downtown area to serve as a gathering place.
Do you have a personal thought you would like to share with the industry?
Have confidence in yourself and have some Fun with a capital F!
Why do you renew your membership?
At the beginning? For the discount during registration to get PMP certification! Then, to be a part of this fine group of people and to have the chance to participate in different networking activities.