PMI-Montréal project management blog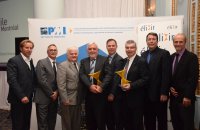 Blog articles, volunteer opportunities and more!
*|MC:SUBJECT|*
THE CRCHUM IS AWARDED 2014 PROJECT OF THE YEAR BY PMI-MONTRÉAL 

Montréal, Novmeber 14th 2014 – Dans le cadre du Gala élixir, qui se tenait le 12 novembre dernier au Windsor, PMI-Montréal a remis le Prix du projet de l'année 2014 au CRCHUM pour la réalisation de la première phase de modernisation du Centre hospitalier de l'Université de Montréal. 
The entire PMI-Montreal team wishes to congratulate our wonderful director of Business Development and Marketing, Ms Melissa Herman, who has accepted the position of marketing director at Club Mansfield group.
For over seven years, Melissa was devoted to the success of PMI-Montreal and we want to thank her for all of her heart, energy, professionalism and passion for our professional association. Our successes are hers: thank you Melissa
On a personal note, we will miss her terribly. Good luck in all your future projects and know that it has been a pleasure knowing and working with you. 
Seeking volunteers !
Available positions for many committees and projects! Get involved! Read more


La gestion de projet à caractère social ; des retombées majeures pour la communauté
Mr Joé Juneau and Dr Raymond Perrault share their experience Read more


Qu'est-ce que la gestion de portefeuille de projets ?
During the 2014 PMI-Montreal Symposium, Micheline Bourque met with Yvan Petit to discuss the book "Project Portfolios in Dynamic Environments: Organizing for Uncertainty" Read more 
During the Symposium, Club de lecture Affaires met with a number of project management innovators to discuss their favorite or recommended project management books
To download and listen to the podcasts of the interviews, visit iTunes 
L'expertise Québecoise en gestion de projet reconnue quatre fois sur la scène internationale 
MONTRÉAL, le 28 octobre 2014 – L'expertise québécoise en gestion de projet a été reconnue à quatre reprises lors du Leadership Institute Meeting – North America du Project Management Institute (PMI®) qui se tenait à Phoenix (Arizona) la semaine dernière. 
Read More

PMI-Montréal presents their memorandum to the Charbonneau Commission 
Le 15 octobre dernier, le PMI-Montréal a été invité à présenter son mémoire à la Commission d'enquête sur l'octroi et la gestion des contrats publics dans l'industrie de la construction..
Click here to view the presentation
Letters to a young project manager: First letter
As Rilke said, "Learning is always a long process, a separate period.". 
Read more
Copyright © *|CURRENT_YEAR|* *|LIST:COMPANY|*, All rights reserved
*|IFNOT:ARCHIVE_PAGE|* *|LIST:DESCRIPTION|*
Siège social :
*|HTML:LIST_ADDRESS_HTML|* *|END:IF|*
Unsubscribe
Update my preferences

*|IF:REWARDS|* *|HTML:REWARDS|* *|END:IF|*
Suggested articles