PMI-Montréal project management blog
Marie-Claude Le Sauteur, architect, M.Sc.A., PA LEED, PMP Director of Large Projects – City of Laval
Author : PMI-Montréal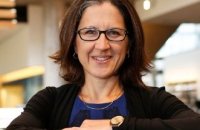 An architect renowned for her management skills, her creativity, her dedication and professionalism, Marie-Claude Le Sauteur has always contributed significantly to the development and success of the organizations in which she is involved.
Most notably, she has participated in:
Directing strategic and transformational projects;
The development and implementation of  a framework of governance for large-scale projects;
Establishing best practices in project management;
Assembling a team for urban and structural projects;
Sharing her expertise as member of a council of Québec municipal managers;  
Architecture competitions, as a member of the jury.
Over the years, she has been the recipient of 20 academic and professional prizes, and won global attention in 2014 when she was awarded the Project Management Institute's International Prize.
With her dynamic personality, she is consistently committed and passionate in everything she undertakes.
As a project management expert, what keeps you up at night?
My sleep is affected when I'm presented with challenges that threaten team harmony. If a team is working smoothly together, there are always solutions.
What is your favourite PMI-Montréal memory?
I was very grateful for PMI-Montréal's help in preparing applications for both the élixir and the Excellence Project for the Bibliothèque du boisé in Montréal's Saint-Laurent borough. As with any project, solid teamwork is key, and PMI-Montréal put us in touch with several project management experts who remain important contacts to this very day!
Which project (a small community project, a large one that has gone unnoticed by the media, etc.) would you like to draw the industry's attention to?
The development of Laval's downtown is an incredibly complex, transformational project of which I'd like the industry to take notice. The exemplary work done with all involved parties (such as citizens, institutions, promoters, owners, corporations, agencies, ministers) is particularly noteworthy. It's important that special recognition be given to the project's manager, whose skills in teamwork, interpersonal communication and organization cannot be overstated.
Do you have any insights to share with your peers (a piece of advice, a belief, a warning, a reference, etc.)?
I believe that the most important skills for a project manager to have are in teamwork, interpersonal communication, and organization. Emotional intelligence is also crucial in ensuring solid group work. It's a fundamental element of any project.
What made you become a member of PMI-Montréal, and what makes you remain a member?
Several years ago, a colleague recommended that I become a PMP. I'll always be grateful for this gift, and I make the same recommendation to my own colleagues today. The rigourous, highly-structured process has proven itself to be invaluable in the creation of exceptional  projects. I renew my membership every year, because the organization has been so instrumental in the success of my projects.
PMP Generation: Are you a project manager with something to share about your industry?
Answer our PMP Generation questions !  Click https://goo.gl/forms/fHsqP7zKwyaI1tkG3 to access the form.