PMI-Montréal project management blog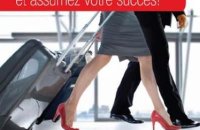 An encounter with Hélène Douville, speaker at the 2015 PMI-Montreal Symposium. The author speaks to Micheline Bourque about her book, "Doublez vos ventes et assumez votre success!".
Who is Hélène Douville?
When asked who she is and what she does, her answer is "I'm a success accelerator at Groupe Conseil DCA, an 18-year-old company." She's the chairwoman of the consulting company which offers coaching, training and conference services in three major lines of activity: sales or business development, customer experience, and management.
It goes without saying that her conference and book are inseparable. During her lecture, she presented issues discussed in the book. At the core, Douville is a women of heart.
"There's an author I really like, Marianne Williamson, who said, 'Being successful is the most natural thing in the world,' and I really believe. I think life is full of opportunities. You just need to work at your talent, couple your passion with your purpose, which will in turn allow you to create and do what you want. So, this morning, we spoke about relational skills, among other things, and what distinguishes us as people. What's going to make a client really want to work with us, more so than with another person?"
When a Book Becomes an Extraordinary Business Card
Writing a book wasn't at all a project Hélène Douville had in mind, but she was prompted to work on it because she kept receiving the same questions and comments from her clients. She realizes today that publishing the book allowed her to shine even brighter, and that it serves as an extraordinary business card. The book, which was also distributed in Switzerland and France, has only boosted her credibility
Double Your Sales – What Is She Talking About?
The world as we knew it a few years ago has changed considerably. According to Douville, it's imperative to stand out of the crowd. "Competition is fierce, clients are disloyal, people have a lot to choose from. We have to become references and deliver the 2015 client's expectations. The client has changed a lot in recent years."
Is "Doublez vos ventes…" a Practical Book?
The book's cover gives us a peak into its practical side by stating 26 keys to success, 10 exclusive testimonials, 25 things to avoid doing and saying, and 11 strategic steps to business development. All in all, an extremely practical book.
Do You Have to be In Sales to Appreciate the Book?
Bourque noted that you don't need to be a sales professional to appreciate the book. Douville agrees: "No matter your position in an organisation, as soon as you work with others or in teams, you'll have ideas to sell, you'll have to be prepared, find the right words to get people's attention and that works in the book! There's a whole chapter on the strength and power of every word.
For example, when we write an e-mail, the last sentence is often the following: 'Don't hesitate to get in touch if you need additional information.' Not only is "hesitate" the most stagnant word there is, but we also make it negative. And we wonder why clients don't call us back. It would be so much more inviting if we said something like, 'I'd be delighted to exchange more with you… I'd like to further collaborate … I would be honoured…' Get strong, inspiring words that convey collaboration. My book "Doublez vos ventes…" is the power of words.
In Conclusion
A final word to talk about the publishing house: why Performance Édition?
According to Douville, "choosing a publishing house is like a long-term engagement with people who will honour your agreement, who will support you and who want to collaborate with you."
Douville actually fell head over heels for Performance Édition's chairwoman, Marie-Josée Blanchard, who actually came highly recommended. Douville wanted to pursue with her, and is actually writing her second book for this publishing house!
All in all, "Doublez vos ventes…" is a book meant for the general public. Its practical side and human approach will undoubtedly help many people, whether they're at the very start of their careers, or are experienced.
THE BOOK:
Bibliography:
Doublez vos ventes et assumez votre succès!, Hélène Douville. Performance Édition, Longueuil, 2014. ISBN : 9782924412213
The book has been published in Switzerland, France and Quebec. It is available in print and digitally, in bookstores and on the company's website, Groupe conseil DCA.
Excerpts:
http://www.archambault.ca/-helene-douville-doublez-vos-ventes-JLI15874653-fr-pr
THE AUTHOR:
LinkedIn:
https://ca.linkedin.com/pub/h%C3%A9l%C3%A8ne-douville/17/521/377
Interview:
https://www.youtube.com/watch?v=7XmHDyzsi2c
Author's Website: