PMI-Montréal project management blog
A word from the President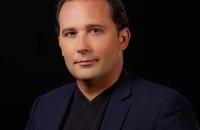 I am very proud of the work we have achieved at the PMI Leadership Institute Meeting this past week and I want to share it with you.
The lessons we have learned, and sharing with extraordinary individuals from around the globe, allow us to make PMI-Montreal a better place for its members, and will bring us towards project management 2.0, if not 3.0.
We need to evolve into managers of change.
| | |
| --- | --- |
| | We discussed many of the trending topics you hear about in your work environment: disruption, collaboration, engaging Millennials and next Gens, the future of the workplace, innovation, artificial intelligence, strategy execution, block chain, lean Startup, transformation, continuous process improvements, etc … AND their relationship with project management. Because as you know, project management is everywhere. We will share some insights about that in our upcoming communications. |
My job as President of the Board is to engage with our global community and stakeholders to support Montreal as the #1 place for project management in the world. Why? Look at the impact of Artificial Intelligence on the position of Montreal in the world for example. Being a global leader will benefit our community: better jobs, better wages, more diversity, more recognition from the public regarding the importance of project management. Everyone is transforming. Let's be the best in class and showcase how you can do it effectively. 
It is much more than just finding a job or changing career path (even if those are important): I truly believe that project management does have a significant impact on our society.
The mission of PMI-Montreal is to promote best practices in project management. Better project management everywhere will lead to increase performance of our organizations, allow teams and individuals to collaborate more effectively, drive better results in transformation, permit government strategies to be executed more effectively – and our tax money better invested – thus leading to an improved society.
There is still a lot of work to accomplish, and of course this is not a one-person job. The PMI-Montreal team and its volunteer community are ready to take on this challenge.
It is said that it is the journey that matters. I believe in this. Join us and be part of this exciting evolution.
Best regards,
Henri-Jean Bonnis, President of the Board of Directors, PMI-Montreal