PMI-Montréal project management blog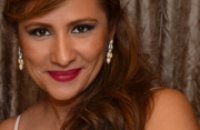 All project managers must have a vision and be able to evaluate the feasibility of a project within a limited timeframe. Of course, this always depends on the scope of the project and on which constraints can put the project at risk.
The three main problems to tackle when a project must be delivered are the following:
Timeframe: How much time do I have to deliver my project?
Scope: What human and material resources do I need to cover my scope (in this case, to organize a wedding with 50 to 60 guests)?
Budget: What is the available budget?
To boot, a project manager must think of multiple options and solutions suited to different identified constraints and risks in order to adapt said solutions to needs.
In the case of my wedding, there were three crucial dates.
Marriage proposal: December 22nd 2015
Engagement date: December 24th 2015 (Christmas Eve)
Wedding date: January 2nd 2016
A "date-driven" wedding
My spouse, who works abroad, wanted to surprise me during the holidays and asked for us to get engaged during the holidays, specifically on Christmas day, when my family would be reunited.
He surprised me a second time two days before our engagement by telling me he wanted our wedding to take place before his departure and before I returned to work, scheduled for January 6th 2016. My first reaction was TOTAL PANIC! What to do? And how to organize a wedding in ten days?
Initial thoughts
Of course, I accepted his proposal, but I wasn't sure I could organize a wedding with such short notice. Thankfully, the leader and project manager in me burst out and I accepted the challenge.
More thinking…
I started thinking about all the things we would need: anything important and necessary for a successful wedding.
My success factors
My project team, i.e. my family and friends, were ready to help me in organizing the wedding
A limited, yet available, budget
The scope of a 50- to 60-person wedding (because of time and budget constraints)
 My constraints
Date predetermined based on resources' constraints (i.e., my husband's presence)
Holiday season (everything is either closed or already booked)

Unavailable reception halls and expensive rental fees
Unavailable caterers
Government institutions (closed on certain days)
Analysis and feasibility
Seven major activities and deliverables had to be guaranteed before announcing my wedding:
Identifying my project team à My family and friends
Finding the location and the wedding decorations à Identifying stores and ask friends to participate
Finding a caterer for the reception à Deciding on the number of courses and meal options while considering budget and number of guests
Finding a caterer for cakes and desserts à Assortment of oriental cakes and wedding cake
Finding money and the religious representative to officiate our wedding
Making guest list and verifying guests' availabilities
Finding garments for bride and groom, including wedding accessories, wedding bands, hairdresser, make-up artist, flowers à Making a list of all necessary services and accessories
 Kick-off and execution phase
What we did to ensure that activities identified in the analysis phase were launched and delivered:
Defining project team: Kick-off meeting with my family and a few friends to talk about the scope and go over the seven major deliverables.
Identifying internal and external stakeholders as well as managing communication: Determining roles and responsibilities

Close and immediate family
Extended family
Friends
Person in charge of reception hall
Chair and table rental company
Caterers for sweet and savoury dishes
Clothing boutiques and jewellers
Florists
Governmental agent for wedding celebration
Identifying key human and material resources

Finding a location to celebrate the wedding
Problem: There were no reception halls available in Montreal for 60 people, since all reservations had to be made 3 to 6 months in advance.
Solution: My cousin and his wife have a big house, and kindly offered to host our guests.
Issues: The house wasn't equipped for a wedding, so I had to take care of all the decoration and rent enough tables and chairs for the guests.
Solutions

Renting enough tables and chairs for 60 guests
Finding enough flatware and silverware
Finding decorations and chairs: My family and friends mobilized to decorate the house.
Planning the reception and the service: A reception plan was made with the owners of the house.

Finding a caterer with delivery service and wait staff

Finding a caterer for savoury meals
Finding a caterer for sweets and desserts
Deciding on a menu for the wedding night
Negotiating service (find waiters for the reception)
Ordering meals
Confirming delivery date and time

Finding someone to officiate the wedding

After doing some research, my husband and his friends found an ordained religious representative who could officiate a civil wedding.
Confirming his availability

Managing invitations and guests' availabilities

Drawing up a list of guests was difficult because the reception location had limited space. We had to go about it very delicately.
Picking guests was done based on many factors, such as finances, availabilities, priorities, and especially the number of available places in the home, out of respect for the owners.
Final decision: 60 people

Finding wedding outfits and accessories for the bridge and groom, rings, hairdresser, make-up artist, flowers

Making a list of all necessary services and accessories for my husband and myself
With the help of friends, I found a few bridal boutiques.
Choosing between three dresses
Purchasing our wedding bands and engagement ring
Hairdresser: Since all salons were closed on January 2nd, my own hairdresser offered to open up her salon for me. It was her wedding gift :)
A friend I invited happened to do my make-up and decorate.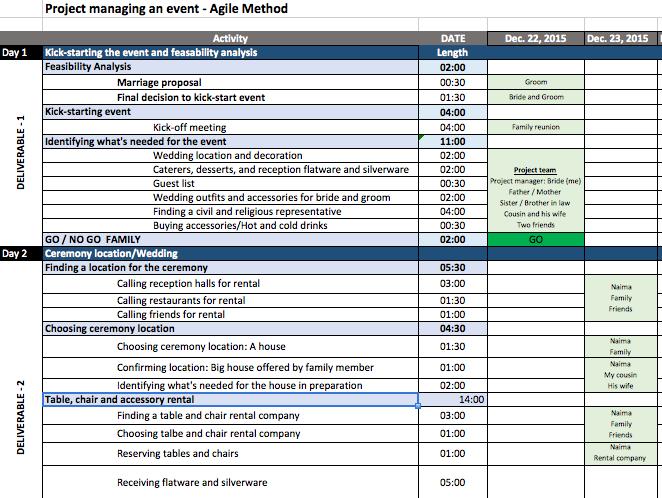 Like most things in life, solid project management and having a great team guarantee the best results!
A SUCCESSFULLY ORGANIZED WEDDING
THE KEY: A GOOD TEAM AND GOOD PLANNING!
OUTCOME: ALL OUR GUESTS WERE IMPRESSED!
EVERYTHING WAS PERFECT ! 

Suggested articles