PMI-Montréal project management blog
Boosting Employee Engagement on Your Next Project
Author : Cassie Steele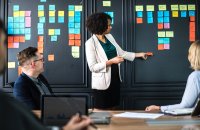 In official lists of Canada's biggest companies, it is common to find Enbridge - an example of a company that achieves success by keeping employees motivated.
This company, which added almost 800 people to its team in 2013, lists its number one priority as attracting, developing, and engaging talent, keeping staff motivated with compensation and benefit programs, leadership development, and talent management. As noted in a study by S Markos et al, "Managers unequivocally agree that this century demands more efficiency and productivity than any other times in history. Businesses are striving to increase their performance." In order to achieve these goals, he notes, employee engagement is key because it touches on almost every facet of human resource management. If boosting engagement is a key goal on your agenda, it is important to identify common pitfalls and work to overcome them.
The Importance of Communication
Any successful business sees the value of good communication. The Royal Bank of Canada, for instance, ensures that employees are able to clearly keep up on stages of each project through the use of a shared intranet site, but they also include employees in employee roundtables with senior leadership. Clear communication is also key when it comes to determining exact procedures and defining problem solving strategies, because changes arise as a project progresses. Thus, updates and checklists between sub-teams and the entire team should be completed at predetermined intervals, to ensure that new needs required are officially included in existing procedural rules.
Where can Project Management Go Wrong?
Research indicates that only 40% of the workforce knows their company's key goals, strategies, and tactics. Meanwhile, around 90% of leaders know engagement strategies are key, but only 25% of them follow a strategy.  Employees can lose engagement when goals, roles, or procedure are unclear. It is vital for roles and procedures to be specified; otherwise, conflict can arise. Because feedback and a sense of autonomy and self-determination is key to motivation, at the beginning of a project, meetings should be had to ask members what roles they see themselves taking and to discuss potential hours involved so that these can be divided equitably.
The Importance of Data Collection and Measurement
SaaS HRMS has grown exponentially in popularity among small and medium-sized businesses, with international companies following their lead. HRMS enables companies to glean vital information and gain insights on how to improve their engagement strategy. It also enables them to compare engagement scores using live benchmarks, providing coverage across industries and obtaining results from topic and sentiment analysis. As noted by CPHR Alberta, HRMS is key in order to ensure that what employees are paid is closely related to their contribution to the company.
Defining Precise Goals
Goals should ideally be quantified and timed, so that the team can enjoy a sense of clarity and progression. Goals which are too vague and which are not quantified lose value and hamper motivation. For instance, if your project involves boosting social media numbers, you should aim for precise numbers and channels and rely on data collection and analytics to see the extent to which you are nearing your targets or otherwise.
Defining goals, roles and procedures at the outset of a project is key to reduce competition and conflict. Regular meetings, updates and checklists will ensure your team is on track, as well as help identify potential necessities for procedural change. Finally, HRMS data will give you crucial information on areas your employees are less happy with. Engagement is everything when it comes to reaching and even surpassing team goals on a project. Therefore, investment in analytics is the first step towards change that makes a difference.