PMI-Montréal project management blog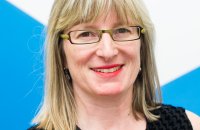 Kateri Normandeau is currently the National Strategy Director of Environment at WSP Canada. She began her impressive career as an environmental engineer and is now an environmental project manager. She is also a certified PMP. She is an active board member of PMI-Montreal.
It is of note that Normandeau was also a panellist for the Club de lecture Affaires and reviewed Woman on Board, a book on female governance, alongside other PMI-Montreal members such as Patrick Perras.
Normandeau has accepted an invitation to speak about a book that had a great impact on her, at the request of Micheline Bourque, who was moved by Normandeau's take on the book. The book in question is Dennis N. T. Perkins' "Leading at The Edge: Leadership Lessons from the Extraordinary Saga of Shackleton's Antarctic Expedition."
What is the book about?
Leadership is the central theme to the book, making it of particular interest to managers. The author, Dennis N.T. Perkins, a graduate from the nautical field, has studied and conducted research projects in both project management and psychology. In "Leading," he dissects and analyzes the expedition of a ship and its crew to the Antarctic in 1915, ultimately displaying the many lessons to be learned from such an adventure.
Kateri Normandeau states that the book is rife with lessons of humility and leadership.
"The story centers on a boat and its crew, during a famous expedition to the Antarctic Ocean. It mostly details the challenges the crew faced when the ship got stuck in the ice. Captain Shackleton had to make difficult decisions and overcome huge challenges, ultimately realizing that he and his crew needed to abandon ship. The adventure lasted about a year."
How can a book inspire and guide a manager?
The book was a resounding success, but it helps to understand how such a book can be so inspiring and useful to a manager like Kateri Normandeau, who has also been confronted with major challenges during important mandates.
Kateri told us about her professional challenges at the time she read the book:
"I was in a difficult position at the time. It was a major project and we had to build teams and implement new business practices. It was a new role for me. Even though I had a technical team, my role was more so to represent the client, brief them on the project, and brainstorm. I was responsible for leading the team to completing the client's project. Essentially, I ended up having to observe and oversee the teams, rather than manage them."
The project was also taking place in a remote area and early on, Kateri was the only woman present in a team of 200 to 300 men. To boot, the weather conditions were particularly trying. Quite the challenge!
Why had she brought this book along with her to the site?
"I've been passionate about sailing for a very long time. Actually, sailing teaches you a lot about teamwork, leadership and even project management, because on a sailboat, every person has their position and a role to play. When you make a mistake, you immediately learn a lesson. You also need to help each other out on a boat. So everything that is outdoorsy and active attracts me, inspires me, and gets me thinking."
It's easy to see why a story about an expedition would be of interest to Kateri.
The book tells the story of a great expedition out to sea and the many responsibilities that came with it. The crew lived through some difficult challenges, but in the end, all members survived. Shackleton managed to keep his team together: "He got through it in large part due to his good spirits, his positive attitude and the values he instilled in the crew. The book also draws parallels between expedition lessons and how to apply them in an organizational context," says Normandeau.
During her mandate, Kateri read the book twice. She simply loved it, and deems all chapters worthy of attention.
"There's a lesson to be learned in each chapter. One chapter describes a situation that happened during the expedition and pairs it with lessons, tools and afterthought that are still relevant today. If I was going through something difficult, I could look to any one of these chapters. They were useful given what I was going through. There are chapters on innovation, risk management, solutions… Just like with risk management, sometimes a leader has to take risks and take their team into unchartered waters.
The title of one of the chapters speaks volumes. When the road is difficult, never give up. There is always another step to take. Each chapter has a theme, a lesson to be learned with relevant tools. The tools are relevant for any situation. It's also really great for motivation."
In conclusion
For Kateri Normandeau, the book is still relevant today and to back up this claim, she has suggested another book about the expedition. Jean Lemire's book "Mission Antarctique" is about his environmental research crew's journey. They, too, were inspired by Shackleton's adventure – they even reproduced some of the photos by taking some at the same laces, in homage to the captain.
Reading is clearly a great way to learn, especially reading about leadership: it gives us energy and ideas, inspires an innovative spark and empowers us to explore the unknown!
THE BOOK:
BIBLIOGRAPHY:
Leadership sous 0⁰. Dennis N. T. Perkins. Les Éditions du Trésor caché, Gatineau, 2003. ISBN : 9782922405187
Excerpts:
http://www.amazon.fr/Leading-Edge-Leadership-Extraordinary-Shackletons/dp/0814431941/ref=asap_bc?ie=UTF8
THE AUTHOR:
Interview:
https://www.youtube.com/watch?v=LA75MzvFOqw
Author's website: