PMI-Montréal project management blog
Project Management: At the Core of Québec's Development
Author : PMI-Montréal
Event Announcements
Press release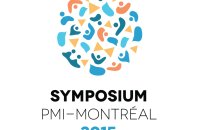 Montreal, September 24, 2015 – PMI-Montréal, Québec's professional association of Project Managers, will be hosting its 6th annual Project Management Symposium on October 6 and 7 at Centre Mont-Royal. The theme of the event will be "Project Management: At the Core of Québec's Development."For the first time ever, the event will take place over two days in order to welcome more speakers, workshops and demonstrations and enhance the networking experience of participants.
Professionals and speakers will convene to discuss some of Québec's great achievements and new project management practices in a wide array of fields such as aeronautics, architecture, aviation, biodiversity, bicycle design, computer science, health, sports, freight transportation and natural resources. Each of the 32 presentations and workshops will be given by one or more Project Management experts, in an effort to encourage knowledge sharing and thought-provoking discussions between participants.
With only a few weeks to go before the Charbonneau Commission tables its final report, PMI-Montréal's 6th Symposium will once again be a great opportunity to highlight the practices that have contributed to the development of Project Management expertise in Québec. In June of 2014, a brief was submitted to The Commission of Inquiry on the Awarding and Management of Public Contracts in the Construction Industry, and PMI-Montréal and its members hope that the Commission's final report will include their recommendations.
"Our members are passionate people, and their passion shines through when they lead major projects worthy of acknowledgement and recognition. These great achievements, made possible by trained Project Managers who apply accepted methods, contribute to the development of Québec's expertise in Project Management in order to meet the ever-growing needs of the most successful organizations. The 6th  Symposium will give participants a unique opportunity to listen to and meet a few of these exemplary Projects Managers who actively participate in the development of Québec," says PMI-Montréal's President, Mr. Benoît Lalonde.
Tuesday, October 6 – Not to be missed
The Symposium will begin with a presentation in English by Mr. Jon Boyle, Deputy Chief Knowledge Officer at NASA. Mr. Boyle will demonstrate how NASA meets the development needs of practitioners, project teams, and the entire organizationthrough its flexible model of knowledge and learning services. Participants will then have the option of attending four out of the six presentations scheduled in the morning as well as the six others scheduled in the afternoon on that day.
Me. Chantal Bernier, former Interim Privacy Commissioner and Assistant Privacy Commissioner of Canada, and Counsel at Dentons Canada LLP's Privacy and Security practice, will also be speaking. An increasing number of incidents ‒ failures, even ‒ demonstrates the significant role that organizations play in the protection of privacy. Companies are slow to grasp the importance of managing the protection of privacy within the organizational framework of risk management. Me. Bernier will be presenting a model for governance and analysis based on actual cases (e.g., Ashley Madison), in order to integrate the protection of privacy into the organizational framework of risk management.
Day 1 of the Symposium will end with a presentation by Ms. Manon Simard entitled Le succès au-delà de la victoire [Success That Goes Beyond Victory]. Ms. Simard, Director of Student Athletics for the Université de Montréal Carabins, will tell the story of how the organization achieved success and won the last Vanier Cup.
Wednesday, October 7 – Program
Day 2 will begin with a presentation by Mr. Gervais Rioux, founder of Argon 18. Mr. Rioux, among the most successful North American cyclists of his generation and manufacturer of high-end bicycles, will explain how his experience and vision allowed him to leverage the growth of his company and bring about a revolution in his field.
Among those scheduled to speak in the morning is Mr. Michel Dubuc, President of the architectural and engineering firmÆdifica, who will reveal what the construction of two hospitals in Haiti has taught him and what impact these experiences have had on the firm's practices here in Québec.
In the afternoon, Mr. Damien Silès, Executive Director of Quartier de l'innovation, and Ms. Isabelle Péan, Project Director at McGill University, will be presenting a creative and interactive platform dedicated to the needs of those involved in innovationin Montréal, Québec and the rest of Canada. Le Quartier de l'innovation (QI) seeks to integrate fours aspects that are essential to a creative society: the urban aspect, the social and cultural aspect, the industrial aspect, and the education and research aspect. The integration of these components and their interconnections have created a world-class innovation ecosystem in Montréal.
Day 2 will end with a presentation by Mr. Philippe Rainville, Vice-President of Planning, Engineering and Construction at Aéroports de Montréal, on the changing role of airports. Once merely places of transit, airports are now considered to be the first stop on any trip. What's more, airport authorities are no longer mere suppliers of infrastructure: they are highly diversified commercial companies, often privatized and deeply involved in customer service and all processes pertaining to passengers.
For full program details, click on the following links:
Day 1 - https://www.pmimontreal.org/en/symposium/programme/day-1
Day 2 - https://www.pmimontreal.org/en/symposium/programme/day-2
About PMI
Since it was founded in 1969, the Project Management Institute (PMI®) has grown exponentially and currently has more than 700,000 members and certification holders in over 265 sections and 185 countries. Thanks to the professional recognition it has received on an international scale, PMI® is proud to be the leading association for the Project Management profession.
About PMI-Montréal
Founded in 1977, PMI-Montréal is comprised of experts in Project Management in Greater Montréal and the following areas: Laval, Abitibi-Témiscamingue, Outaouais, Eastern Townships, Montérégie, Laurentides, Lanaudière and Mauricie-Centre-du-Québec. PMI-Montréal has more than 4,200 members. (https://www.pmimontreal.org/)
Sponsors of the 2015 Symposium
PMI-Montréal would like to thank the following Sponsors for their support of its 6th Symposium: CGI, Technologia Training, EGS UQÀM's Project Management Research Chair, École de Technologie Supérieure (ÉTS), La Personnelle, the McGill School of Continuing Studies, Agile Montréal, WSP Canada Inc. and Quartier international.
- 30 -
For additional information, requests for interviews and media accreditation, please contact:
Caroline Bergevin | 514 849-4554 | caroline.bergevin@cominfrarouge.com 
Suggested articles