PMI-Montreal's 2016 Projects of the Year - Revenu Québec, Hatch Ltd. and the Jewish General Hospital take home the top awards at the élixir Gala
ByPMI-Montreal, 2016-11-09, 13:00
"We're delighted to celebrate both the dynamism and know-how of project management in Quebec at our annual gala. We would like to congratulate all finalists, and especially Revenu Québec, Hatch Ltd. and the Jewish General Hospital for their outstanding performance and exemplary management," said Benoit Lalonde, President of PMI-Montreal. Quebec's project managers have every reason to be proud of their accomplishments. Their large-scale projects stand out as exceptional both at home and abroad!"
Revenu Québec / élixir Award – IT and Technology Systems
Project: HR Management Software Packages
Revenu Québec used various IT solutions and software packages to transform its human resources management processes, particularly those used for payroll (for its 12,500 employees) and staffing (to manage the 20,000 applications it receives annually for roughly 800 job openings).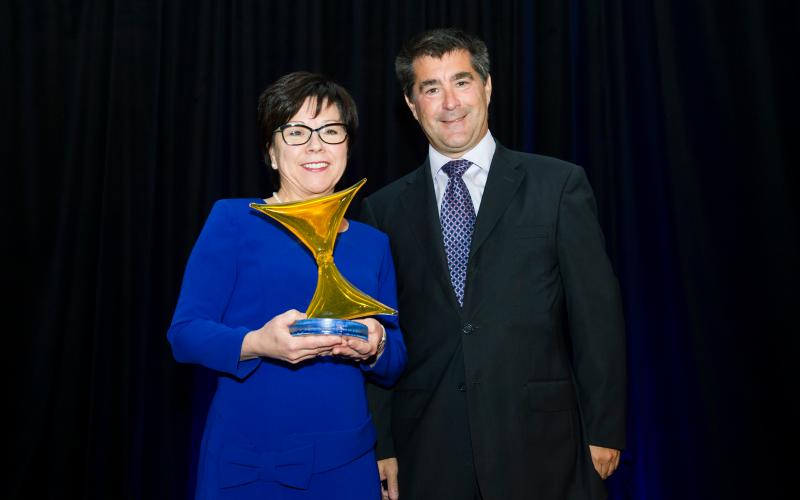 Madame Line Paulin, Vice-présidente et directrice générale de la Direction générale des ressources humaines et Monsieur Daniel Forest, Directeur principal des solutions organisationnelle. Crédit Photo : Marie-Andrée Blais
Hatch Ltd. / élixir Award – Construction and Engineering (Private Projects)
Project: Gahcho Kué Diamond Project
Located 280 kilometres northeast of Yellowknife in Canada's Northwest Territories, Gahcho Kué is the world's largest and richest new diamond mine. Hatch Ltd., which was awarded the full EPCM contract, completed the project on budget, two months ahead of schedule. The project has set a new standard at De Beers for project execution, teamwork and performance.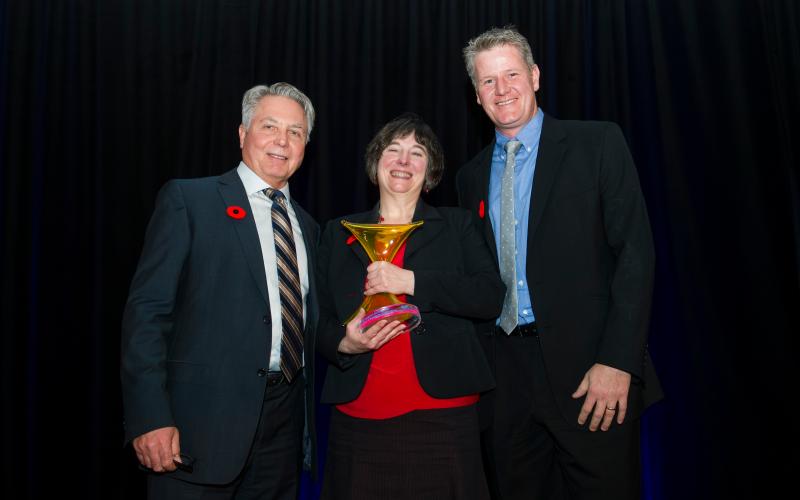 Rob Metka, Global Managing Director, Industrial Minerals, Hatch, Marie-Hélène Biffi, Project Controls Manager, Hatch, Allan Rodel, Head of Gahcho Kué Project, De Beers Group of Companies. Crédit Photo : Marie-Andrée Blais
Jewish General Hospital / élixir Award – Construction and Engineering (Public Projects)
Project: Construction of the Critical Care Pavilion (K)
The Jewish General Hospital decided to bring its critical, intensive and emergency care wards under the same roof with the construction of a new 11-storey building. The purpose of uniting these units was to centralize services requiring advanced technology, maximize care efficiency and reduce travel distances on the hospital campus. One of the major strengths of the project was the close collaboration between the clinical teams, support services and professionals, which enabled the new building to meet applicable standards. This initiative will ensure quality care and a more appropriate work environment.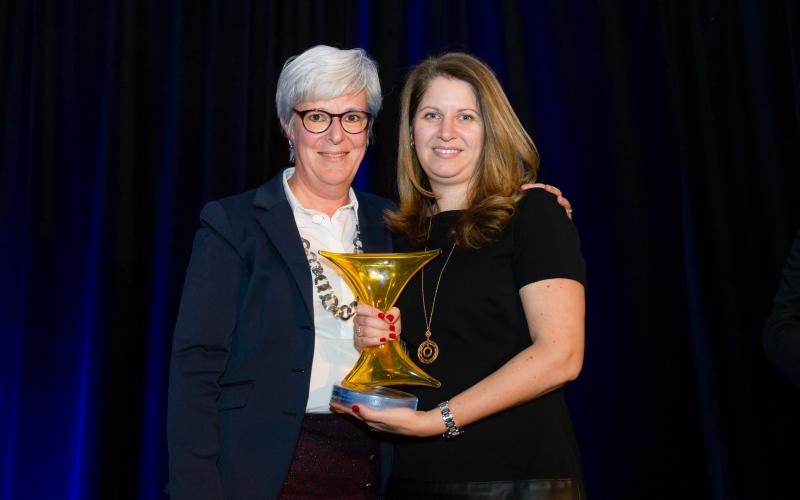 Joanne Côté, Directrice du soutien à la transformation et Yaël Harroche, architecte, MSc. A. Chef de service - Planification, CIUSSS du Centre-Ouest-de-l'île-de-Montréal, Hôpital Général Juif. Crédit Photo : Marie-Andrée Blais
For the past 11 years, the élixir Gala has been recognizing excellence in various fields: construction and engineering, manufacturing, IT and communications, life sciences, arts, culture and tourism, professional services and consulting. The winners qualify to enter the international Project of the Year contest held by the Project Management Institute (PMI).
Desjardins, which won the élixir Award in the IT and Technology Systems category from PMI-Montreal in 2015 for its transactional site overhaul, took home the PMI Award for Project Excellence last September at the PMI Leadership Institute Meeting 2016.
About PMI-Montreal
Founded in 1977, PMI-Montreal gathers most project management professionals in Quebec. With more than 4,600 members, it is the largest chapter in Canada, as well as the largest French-speaking chapter in the world and the fourth-largest chapter overall of the Project Management Institute (PMI). For more information or to see the schedule of upcoming events, go to www.pmimontreal.org.
Partners of the élixir Gala 2016
PMI-Montreal would like to thank the partners of the 11th edition of the élixir Gala: CGI, École de technologie supérieure (ÉTS), R3D Conseil Inc., La Personnelle, Agile Montréal, Technologie, Fonds de solidarité FTQ, Agilia Solutions, and McGill Continuing Education.
- 30 -
Photo credit: Marie-Andrée Blais
Revenu Québec photo caption: Madame Line Paulin, Vice-présidente et directrice générale de la Direction générale des ressources humaines et Monsieur Daniel Forest, Directeur principal des solutions organisationnelle
Hatch Ltd. photo caption: Rob Metka, Global Managing Director, Industrial Minerals, Hatch, Marie-Hélène Biffi, Project Controls Manager, Hatch, Allan Rodel, Head of Gahcho Kué Project, De Beers Group of Companies
Jewish General Hospital photo caption: Joanne Côté, Directrice du soutien à la transformation et Yaël Harroche, architecte, MSc. A. Chef de service - Planification | CIUSSS du Centre-Ouest-de-l'île-de-Montréal | Hôpital Général Juif | 
Source:                                PMI-Montreal
Information:                      Caroline Bergevin Communications Infrarouge 514-849-4554 caroline.bergevin@cominfrarouge.com
---