PMI-Montréal project management blog
A word from the President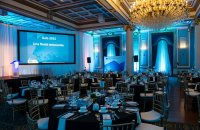 I wish to thank you for your record participation in PMI-Montreal's activities this fall: season opener Cocktail , the 2-day Symposium , full-capacity Gala Elixir, the most popular training courses ever, effective and committed practice communities, our common mission to highlight the best project management practices is accomplished every day thanks to you.
The Montreal community had the privilege of honouring a fourth Montrealer awarded the title of PMI Fellow. We are very proud to count among our members Dr. Brian Hobbs, PMI Fellow. This well-deserved honor reflects on all of us and continues to highlight the project managers of Montreal and Quebec.
Your Board of Directors maintains its regular schedule of meetings and we are proud to begin 2016 with our governance structure at the cutting edge in governance trends. Finally, it is with great emotion and pride that we see the project managers of Montreal and Quebec answer the call of Je fais Montreal, your incredible commitment is very auspicious for the city of Montreal.
2017 will mark our 40th anniversary and we are already working on an unparalleled year of celebrations and successful projects.
Thank you all for your support,
Benoit Lalonde