PMI-Montréal project management blog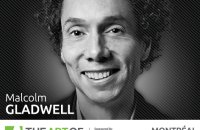 The Art of Marketing is coming to Montréal on November 25th and members of PMI have an opportunity to register at a reduced rate.
This full day conference features five internationally renowned Bestselling Authors, Thought Leaders and Marketers, who will share an exciting blend of cutting edge thinking and real world experience on today's most critical business issues. You will have countless opportunities to meet, network and learn with some of the brightest Marketing minds in the world.
This years speakers include:
MALCOLM GLADWELL – Author of Five New York Times Bestsellers, TIME's 100 Most Influential People & a Member of the Order of Canada
MARC ECKO – Founder & Chief Creative Officer of Marc Ecko  Enterprises, Author of Unlabel: Selling You Without Selling Out
CHARLES DUHIGG – New York Times Investigative Reporter & Bestselling Author of The Power of Habit
JACKIE HUBA – Customer Loyalty Expert & Bestselling Author of Monster Loyalty: How Lady Gaga Turns Followers into Fanatics
ERIC RYAN – Co-Founder & Chief Brand Architect, Method & Author of The Method Method
The regular rate to attend The Art of Marketing Conference is $449; however members of PMI can register at a rate of $399 per person. Save an additional $50 when registering 3 or more people at the same time. Registration is online – Don't forget to use Promo code: PMI32.
For more details on The Art of Marketing you can simply visit: http://www.theartof.com/marketing-montreal-2014/