PMI-Montréal project management blog
Quebec project management shines on the international stage
Author : PMI-Montréal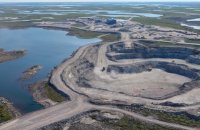 October 18th 2017, Montréal – PMI Global has announced the list of finalists for the 2017 Project of the Year award and PMI-Montréal is proud to announce that among the three finalistes is the project of De Beer and Hatch, Gahcho Kué!
PMI's Project of the Year Award
This is the 6th time that a winner from the PMI-Montreal elixir contest is a finalist for the international grand prize.
The bar is set high for Gahcho Kué: since 2005, all the Montreal finalists have won this international award.
Winners will be announced on October 28, 2017 at the Gala awards evening in Chicago. Mrs Louise Fournier, General Director of PMI-Montréal and Mr Benoit Lalonde, President of PMI-Montréal, will be present to represent the chapter.
PMI-Montreal is proud to highlight the successes in Québec project management and invites you to discover more about this remarkable project.
De Beers Hatch Gahcho Kué Project
Gahcho Kué is the world's largest and richest new diamond mine, located 280 km Northeast of Yellowknife in Canada's Northwest Territories. Extreme cold temperatures coupled with limited road access only available in February and March by way of a 420 km winter road were major challenges. Harch and JDS Mining began a FEL3 Study in June 2013. Hatch was awarded a full EPCM contract in January 2014 for project implementation.  The project was completed two months ahead of the planned start-up and within the budget range. This was achieved by bringing 2,500 truckloads of material and equipment via the 2015 winter road and the efforts of a dedicated construction team that succeeded in enclosing the process plant structure by October in the same year so that work could proceed indoors during the following winter. This project has now set a standard for De Beers in execution, teamwork, and performance.
Don't miss the Project of the Year Finalists video here!
Suggested articles