PMI-Montréal project management blog
PMP Generation - Valérie Laforge, Project Manager, Sparkle Sports Event Planning
Author : PMI-Montréal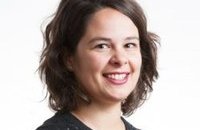 I am a project manager in sports event planning with 15 years' experience in the sports industry. Having previously been involved as a volunteer at different levels for over fifteen major sports events, I decided to throw myself into the business and put to good use my thorough knowledge of the sports industry, my expertise in project management and my experience in event planning for sport organizations.
After one year in the industry, I worked on several big projects including the organization of the first ever Olympic selection tournament in rock climbing on this continent. I'm really proud of having been selected as the project manager for the 2017 Pan-American Youth Climbing Championship, which took place in Montréal from October 30 to November 5, 2017. Being PMP certified since 2015, I now work to integrate the best practices in project management and make them accessible to my clients in the field of amateur sports.
I'll have the privilege of experiencing my first Olympics next year during my visit to the PyeongChang 2018 Olympic Games as a volunteer for the Canadian Olympic Committee.
I've dreamed of organizing the Olympics since childhood, and here I am, en route to my first Games, which will give me the opportunity to observe one of the biggest international sports events in the world through the lens of a project manager.
Do you know the 2017 Pan-American Youth Climbing Championship ?
This event was created in order to become a cornerstone for the development of climbing, this new Olympic sport which will debut in 2020 in Tokyo.
Accès Escalade Montréal and the IFSC Pan-American Council welcomed 200 athletes aged 14 to 19 from nine countries of the continent. They took part in bouldering, speed, difficulty and Olympic combined format competitions. On top of crowning continental champions by age category, the trial served as an Olympic selection process for athletes in the Youth A category for the Buenos Aires 2018 Youth Olympic Games.
The BNQ Level 2 certified, eco-friendly event involved close to 200 volunteers and 40 partners and welcomed 125 to 250 spectators per day for seven days of competition. All communications were produced in three official languages: French, English and Spanish. All trials were webcast and were followed by nearly 2,000 supporters per day. The communication strategy managed to reach more than 125,000 people in one week through social media and it managed to significantly increase the visibility of the sport in traditional media thanks to this event being covered by almost all major Montréal media outlets.
Sixty trials took place under international standards with only a single delay of 15 minutes for the entirety of the event.
The programming also included mentoring for officials and technical staff, a Pan-American Council meeting with 11 of its member countries, a training for athletes on the use of social media and an evening event on knowledge sharing for the 28 coaches present.
The event was also a chance to update sport infrastructures that will allow athletes to train in optimal conditions on infrastructure with international standards and will act as an important driving force for the promotion of the sport among all clientele.