PMI-Montréal project management blog
PMP Generation - Pascal Villeneuve, Eng., Project Manager – Jacques Cartier and Champlain Bridges Inc.
Author : PMI-Montréal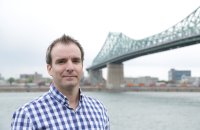 I have a degree in Construction Engineering from the École de Technologie Supérieure and 16 years of experience in the fields of construction and project management. For more than eight years, as a project manager, I managed civil engineering and road work contracts for a general contractor. I joined the JCCBI team in 2010, as Director of the Construction Department, and for the past four years, I have held the position of Project Director. In particular, I was responsible for the project to replace the deck of the Honoré-Mercier Bridge and the Jacques Cartier Bridge lighting project.
As a project management professional, what keeps you awake at night?
The lack of time...as on our projects.
What led you to pursue a career in project management?
Projects allow me to achieve great things but above all to meet extraordinary people who allow me to learn every day. I love teamwork. Whether it's for student projects or large projects, it remains the key to success.
Do you have a personal thought you would like to share with the industry (an observation, a piece of advice, an open question, a reference, etc.)?
In fact, I will share here the work done by the professionals who form the project teams—engineers, technicians, PCOs, etc.—who do an enormous amount of work and without whom the projects could not come to fruition. So hats off to all those whom we never see in the media or on a podium to pick up a prize that you undoubtedly deserve... Thank you!
Why did you become a member of PMI-Montréal / Why renew your membership? / Why do you invest your time in PMI-Montréal?
PMI-Montréal puts me in touch with a host of managers from various backgrounds through a variety of exchange platforms. Meeting people and talking about projects are the reasons I'm getting involved now.
Which project manager would you like to see next as a member of Generation PMP?
People with artistic creativity because of their great capacity to innovate.