PMI-Montréal project management blog
PMP Generation - Kateri Normandeau, P. Eng. M.Env.Sc. PMP ASC - Vice-President, Environment and Project Management
Author : PMI-Montréal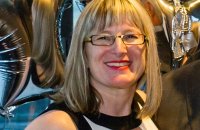 Kateri Normandeau has been Vice-President, Environment and Project Management at GBi since 2018. GBi is a Quebec engineering consulting firm with a multidisciplinary team of 300 highly qualified and award-winning professionals. As a volunteer board member for four years at PMI-Montréal, she has been Vice-President of the Board of Directors since 2018 and also chairs the PMI-Montréal Human Resources Committee.
Ms. Normandeau held various management positions at WSP from 2007 to 2018, including Vice-President, National Strategy and Project Management; was Owner's Representative for Glencore-Xstrata mining company for the Gaspé Mine Rehabilitation Project from 2007 to 2008; and was Director, Environment and Quality Assurance and Control from 2008 to 2009 for the same project. This project was awarded the Canadian Consulting Engineer Schreyer Award in 2011 and was a finalist for Project of the Year at the PMI-Montréal Élixir Gala in 2013. From 2002 to 2007 she was an associate at Golder Associates and was Quebec Regional Leader for the Golder Construction division.
 She was active on various strategic committees at the Ordre des ingénieurs du Québec from 2009 to 2014, becoming a board member in 2012 and then Vice-President of the Public Affairs Committee in 2014. Ms. Normandeau then decided to give her time, energy and expertise to the Project Management Institute. She was elected to its Board of Directors in 2015 and started to chair its Notoriety Committee, in charge of PMI's 40th anniversary celebrations, in 2017.
She recently obtained her ASC - Administratrice de sociétés certifiée (certified corporate director) certification from the Collège des administrateurs de sociétés.
What would you like to see happen in the project management industry in 2019? What is your dream for project management in 2019?
One of the major challenges in 2019 is managing our people to develop our expertise and our industry. Also, retaining and developing our project management professionals at PMI and in the consulting engineering sector is a priority for me. I dream of a 2019 full of discoveries, shared skills, innovation and collaboration with our project managers to make large-scale, complex projects with project stakeholders a success.
What led you to pursue a career in project management?
My career choice was initially civil engineering. Through working on the construction of various civil or environmental management works, such as pumping and water treatment stations, technical landfills and treatment works, environmental management gradually became part of my practice. I became passionate about project management. When I wrote my master's thesis in environmental management, which focused on a complex project, I realized that I wanted to deepen my knowledge of project management in order to further contribute to the success of the projects I was working on. Working with my PMP certified colleagues, I discovered a whole new area of competence and knowledge. They strongly recommended that I undertake the training process leading to PMP certification, suggested various readings and supported me in orienting my career towards project management.
What is your most memorable recollection regarding PMI-Montréal?
I have fond memories of all the preparations for the PMI-Montréal 40th anniversary celebrations. For such an event, we needed to mobilize a large team of PMI volunteers and managers—we needed their energy. I would like to thank them for their spirit and dedication. Sharing the various milestones in our organization's history and highlighting the passion that drives our members was, without a doubt, a high point of this celebratory year. However, the big celebration at the Place Ville-Marie Observation Deck will remain my favourite part. As one of the event's sponsors, I was particularly moved when I said, "This is an exceptional evening: PMI-Montréal's 40th anniversary. Celebrating, sharing, innovating, being there with our members, underscoring the excellence in project management in Montréal—this is a great opportunity to express how far we have come and the future we want to build together in project management." This memory motivates me to pursue my commitment and channel my energy into serving the PMI-Montréal project management community.
Do you have a personal thought you would like to share with the industry (an observation, an open question, a reference, etc.)?
Stakeholder management is a new field of knowledge in project management. I hope that this expertise and field of knowledge will grow through research, applied projects and publications dealing with best practices. By further discussing environmental issues and climate change and integrating them in the various dimensions of our projects, I believe we can get all those involved moving forward. By doing so, as project managers, we will be able to take concrete and thoughtful measures and apply pragmatic solutions. We will thus grow as managers, and as residents, for the benefit of the entire community.
Which project management professional would you like to see as a member of PMP Generation?
Anna Canan, Eng. PMP - Lead Estimator at Kiewit