PMI-Montréal project management blog
PMI-Montreal 2018 Career Day : resounding success !
Author : PMI-Montreal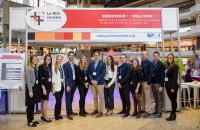 PMI-Montreal held its 4th annual Career Day, January 31st 2018, employers looking for Project Managers sponsoring the event. With 25 employers and 450 attendees Career Day, we broke our own records !
The event was held at Complexe Desjardins, which is in the heart of the business district and easily accessible by metro.
The project team was a group of students from the local Project Management Program and most of the work was done by volunteers, other than registration and publicity via our web site and eblast.
The demand for Project managers is growing in the Montreal area: positions were available in most project management fields: IT, banking, construction, telecommunications, manufacturing aerospace as well insurance.
Most importantly, job searching services were offered to our members and attendees: CV consultations with five employment professionals were held from 11 to 19 h, personalised mentoring by our volunteer members was also offered and the local ICF (coaching federation) provided free consultations services.
A photo booth was sponsored, offering professional photos candidates can post on their LinkedIn profile.
The event also hosted four conferences on work in the project management industry, how to maintain one's presence on LinkedIn and how-to for interviews.
Our Survey shows great appreciation for the event and we were please to attract over half non members to whom we were able to present PMI and PMI-Montreal.
The CV consultation services are so popular we are thinking of holding them over the summer with our partner, a local non-for-profit agency.