PMI-Montréal project management blog
New Year, New Courses and Activities !
Author : PMI-Montreal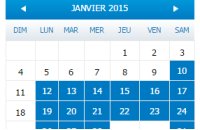 New year, new activities and training courses !
Thursday, January 22, 2015


Season opener Cocktail


Special event at the CR-CHUM


Speech by M. Jacques Turgeon,


Director of Research at the Centre hospitalier de l'Université de Montréal
 
Proud sponsor of PMI-Montréal
Wednesday, February 4, 2015
Stop squeezing the lemon - manage capacity to achieve results
When changes are multiplying every day and that the requirements of daily operations remain as high, free up capacity to manage change is a major challenge for managers. Do you feel it's overflowing everywhere?
Learn more
Wednesday, March 11, 2015
Best practices in governance
Presentation of the primary roles of administrators (and boards of directors) within the contexte of best practices in governance for small to medium-sized businesses
.
Learn more
Thursday, February 12, 2015
5 Choices for extraordinary productivity  - 6 PDU
In today's world, people are drowning in their emails, buried by demands and are trying to do more with less. Change the dynamic ! Act on what's important, visualize the extraordinairy !
In collaboration with the Community of Practice excELLE, PMI-Montréal offers you a winning workshop which will prove itself useful in your daily life! 
Learn more
Tuesday, January 20, 2015 - IT
IT Round Table

Tuesday, January 20, 2015 - Construction 
Optimisation de la gestion de la maintenance des équipements

Monday, January 26, 2015 - excElles women in project management
L'art de se présenter avec BRIO en …. 30 secondes
Tuesday, February 3, 2015 - Construction
Vérification diligente et approbation des projets d'envergure
Tuesday, Febraury 17, 2015 - Construction 
Revue de la jurisprudence en droit de la construction 2014

Wednesday, February 18, 2015 - Réseau Mauricie Centre-du-Québec
Changement, Risque et Agilité : gestion proactive, active et réactive
APECQ 
AQIII
Project Management Chair ESG UQAM
Ordre des ADMA
Suggested articles