PMI-Montréal project management blog
Houda Ouraghi, PMP, Manager, Digital Channels and P&C Strategies, National Bank of Canada
Author : PMI-Montréal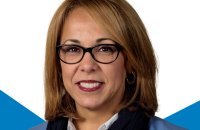 Houda is passionate about projects. She has 18 years of professional experience in Canada and internationally in business strategy, project management and project portfolios.
She is Senior Project Manager, Digital Channels/P&C at National Bank of Canada, where she supervises major transformational projects. Houda is driven by change; she is currently collaborating with National Bank's transformation office on mandates concerning the cultural evolution of the company. She has received the Club Excellence prize three years running for the innovation and excellence of her work, a prize given to the Elite of the Bank. Houda is an engineer and has a Master's in Project Management as well as her PMP certification. When Houda isn't managing projects, she is very socially active. She is a Robotics Mentor for First Robotic and an Entrepreneurship Mentor for JA Canada. She is a member of the PMI-Montréal Board of Directors and a sponsor of the Jeune chambre de commerce algérienne du Canada.
As a project management professional, what keeps you awake at night?
Keeping my clients satisfied and rallying my project teams are, in my view, the key elements for project success.
What would you like to see happen in the project management industry in 2017? What is your dream for project management in 2017?
To continue to give change management the place it deserves. In our projects, we often see that this aspect is underestimated, and we all know the result. So, yes, optimize your approach to change management, but keep it at the centre of projects, because we are talking more and more about transformation, which means changing how humans do things. It's important to develop strategies to manage change, because it is crucial for project success.
What led you to pursue a career in project management?
I've always done it, instinctively, and it's really quite simple: everything is a project, so you need to have a good foundation, structure, organization, diligence, a systematic way of thinking, the right tools and the right people working together towards a common goal. I'd also add not being restricted to working in only one sector.
Why did you become a member of PMI-Montréal / Why renew your membership? / Why do you invest your time in PMI-Montréal?
I think the answer lies within the question. PMI-Montréal is the reference for project management. It has all the key resources one needs to become a seasoned project manager, like training that leads to professional certification—which enables graduates to better position themselves on the job market—as well as other activities and support for new project managers and those wanting to improve their skills. It is the central hub that brings together project management professionals by offering them networking and volunteering opportunities through events that are organized all year long. That's not to mention special prices for members so that we can keep our project management toolboxes well-stocked.
Suggested articles