The perfect opportunity to SET yourself apart
As expertise and professionalism become increasingly important in project management, obtaining a PMI certification demonstrates your expertise and allows you to set yourself apart from others in your field.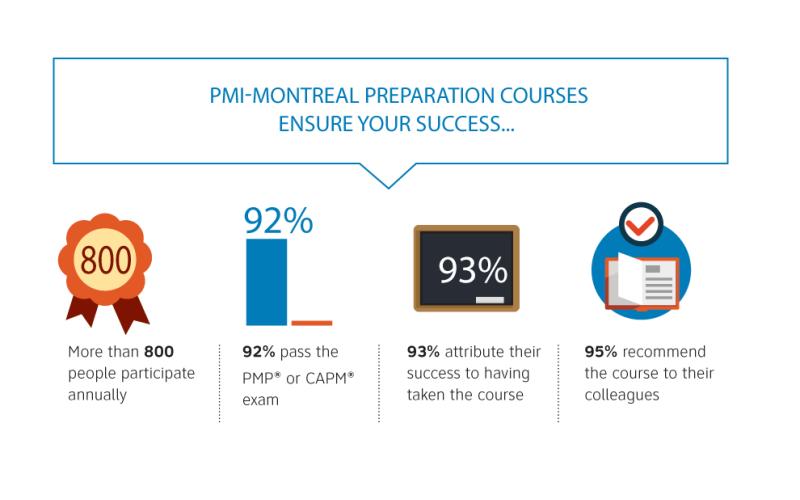 LIST OF Upcoming PREPARATORY COURSES FOR THE PMI CERTIFICATIONS! 
For the preparatory classes for the PMI-SP®, PfMP®, PgMP® and PMI-PBA® certifications, please comunicate with us in order to specify your preferred dates: info@pmimontreal.org.
NEW! Courses offered on Tuesday evenings in French and Wednesday evenings in English are now available online! 
« The PMP certification demonstrates a candidate's ambition, rigor and effort in investing in their career in project management. This certification is a benchmark for our project management teams. » Talent Aquisition Team, Mouvement Desjardins
"I went to the PMP exam prep bootcamp in January and am pleased to report that I just took the PMP exam this morning and passed. A huge thank you to Serge, Yvan, Christine, and Michael for their excellent subject matter instruction and helpful tips on studying, and to Aliki for reassuring me regarding the application process. I ended up scoring "Moderately Proficient" in Initiation, M&C, and Closing, and "Proficient" in Planning and in Execution. Thank you for helping me lay a solid foundation of PM basics! I enjoyed the process and am looking forward to putting my knowledge into action!"  Claire M. PMP