Communautés de pratique
1.5 pdus
Power Skills
CdP Gestion du changement - Future Proofing Yourself, Your Teams and Your Projects in a Volatile World
Description
OBJECTIVE
By the end of the workshop, participants will be able to:
Describe how to lead people and projects in today's environment

Describe the mindset, skillset and toolset needed to reinvent how we lead people and projects

Self-assess your capacity to reinvent in a volatile world
Plan for a prosperous future.
DESCRIPTION
Join us for this workshop to learn why most responses to disruption flop (75% fail, to be precise!!!) and how to virtually guarantee that your project and change management efforts will be a success.
This workshop is a MUST if…
You're experienced in project or change management looking for new insights and tools to instantly set you apart and make you a no-brainer partner to put in charge of a project, a training program, or a transformation effort.
You're an ambitious achiever and want to learn how to protect your organization (and your career) no matter what crisis or disruption is coming from fast-moving competitors, new customer demands, disruptive suppliers, out-of-the-blue regulations, or volatile financial markets.

You're starting out in project or change management and are eager to learn how to break into this career – to protect your schooling investment – and yet you're unsure what to pay attention to in the endless noise of the big trends and threats coming from every corner.
SONIA DI MAULO, MA, CRP
FOUNDER AND CHIEF REINVENTION OFFICER, HARVEST PERFORMANCE
CO-FOUNDER, REINVENTION CANADA
AWARD-WINNING AUTHOR, THE APPLE IN THE ORCHARD : A STORY ABOUT FINDIND THE COURAGE TO EMERGE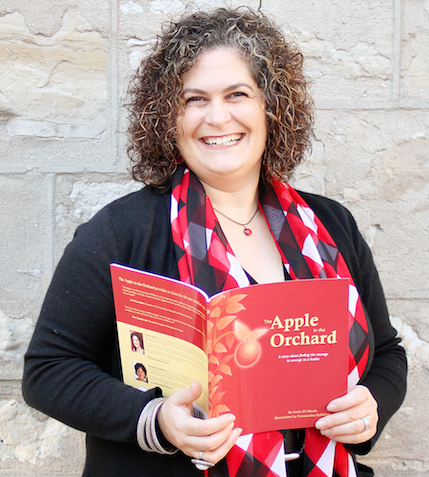 I've been leading change and projects for over 20 years, having the honor to work with large organizations such as ExxonMobil, Bank of Montreal, Nuvei, Canadian National, and the International Air Transport Association (IATA) to small-medium enterprises (SME) that support national, local, and personal growth in the past 10 years.
At the heart of these projects, there are people.
And here's a confession: With a M.A in Performance Improvement, my passion has always been the field of change, helping people be at their best through periods of disruption. But over the years, I continue to be surprised at how limited the results are -- when we ONLY used the tools of project and change management.
About me: I help ground emerging leaders and businesses in purpose and prosperity through my award-winning book and programs to help them achieve measurable results.
In addition to my 20 years+ of experience as a Performance Improvement Consultant and expertise in project measurement, I use my Certified Reinvention Practitioner badge-of-honour to help even more emerging leaders ground themselves in today while planning a prosperous tomorrow.
I am a proud mom of two teenage sons, enjoys family time, watching science fiction movies, and learning from nature. Learn more at www.soniadimaulo.com
17 h 45 : I connect

18 h 00 : Start of the conference

19 h 30 : End of the event
You will receive the login link by email. Double check your spam emails. We take registrations up to the day of the event during office hours. At the last minute, we will be unable to send you the connection link.
PDU registration : 
1.5 PDU - LEADERSHIP
You must register your PDUs in your PMI Global account with the PDU code which will be disclosed to you at the end of the presentation.
Tableau de bord / Dashboard

Report PDUS

PDU Claim Code
The certificates will be directly deposited according to the attendance record in your PMI-Montreal account.
Looking forward to sharing these moments with you!
The PMI-Montreal team
Politique de remboursement
Cours à distance au Québec : aucun remboursement ni annulation 10 jours ouvrables avant le premier cours pour permettre l'expédition du matériel. 
Cours à distance à l'extérieur du Québec : aucun remboursement ni annulation 15 jours ouvrables avant le premier cours pour permettre l'expédition du matériel.
Formations en présence
Remboursable en totalité 5 jours ouvrables ou plus avant la formation . La demande doit être envoyée à rec@pmimontreal.org.
Aucun remboursement 4 jours ouvrables ou moins avant la formation .
Substitution
La substitution d'un participant n'est pas autorisée sauf pour les inscriptions de groupe.
Annulation
Le PMI-Montréal se réserve le droit d'annuler une formation advenant un nombre insuffisant d'inscriptions. Le cas échéant, la totalité des frais d'inscription seront remboursés.